At JC-Math Tuition, we offer Math tuition for Secondary 1, 2, 'O' level E Math and A Math and 'A' level H1 and H2 Math.
We draw out your potential and help you master examination skills.
We offer systematic, reliable dedicated and qualified teaching.
We facilitate and challenge your critical thinking, stretch your abilities and heighten awareness of what to learn and how to learn.
Assessments are also given to ascertain your progress and arrest areas of weakness.
Study in conducive conditions and benefit with effective study materials. You will discover learning can be fun.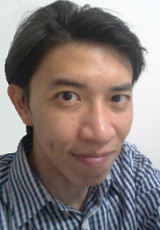 Main Tutor
Mr Ng Wei Lien received his Bachelor in Engineering from Nanyang Technological University (NTU)
and a Postgraduate Dipolma in Education with honours from the National Institute of Education (NIE). He was a former Math teacher at a pre-tertiary school recognized for value-adding to students' education.
With more than 15 years of teaching experience, Mr Ng is able to explain complicated mathematical concepts into easy to understand terms for his students. Each of his classes comprises in-depth discussions and practice questions. His unique way of facilitation makes the learning in his tuition classes much more engaging. 
LIKE US!
Like us on our Facebook page to get our latest the updates of suggested solutions. You will get to learn new handy strategies to handle tricky questions asked by other students from their tutorials and revision packages.
FEES
New students shall pay the lesson fees for the first 4 lessons in full when they attend their first lesson. The lesson fees applicable to new students will be dependent on the calender month of the student's registration date and will remain unchanged for the rest of the year. The fees payable for any new students for JC-Math tuition classes will be as follows:
| | |
| --- | --- |
| Enrolment | SEC 3 and 4 Classes  |
| Before 30 April  | $280 |
| After 1 May | $320 |
| | |
| --- | --- |
| Enrolment | JC 1 and 2 Classes  |
| Before 30 April  | $360 |
| After 1 May | $400 |

The duration of each lesson is 2 hours. There is no additional administration, registration or material costs.
Partners
Do you need help in H2 Chemistry and Economics tuition too? For the best A level tuition, you can look up the following partners of JC-Math:

For JC Chemistry Tuition, please contact A Level Chemistry Tuition Specialist Mr Maverick Puah at Chemistry Guru.

For JC Economics Tuition, please contact A Level Economics Tuition Specialist Mr Clive Foo at EconsActually.